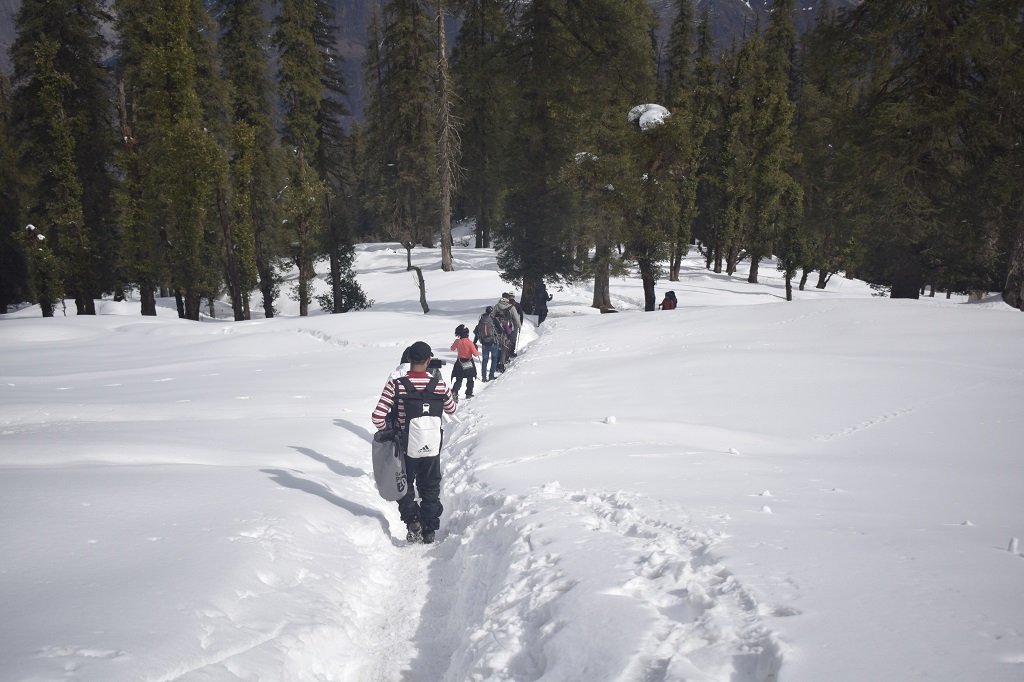 Kedarkantha Trek is one of the most beautiful treks which take you to the land of some of the best views which you will cherish for a lifetime. This winter trek will take you through a journey of some of the unknown places with the best views of the mountains. During your trek you will trek across some of the most beautiful sights with snow-capped mountains, verdant valleys and frozen ponds. Get a chance to witness the vivid flora and fauna of the region as you continue your trek. Each of the campsites is known for its amazing surroundings with the beauty of pine trees. Soak in the amazing beauty of the region while you continue trekking through the lush meadows, dense pine forests, cascading beautiful streams, and gorgeous maple trees.
About the Kedarkantha trek:
Total days : 6 Day
Difficulty: Easy. No prior trek experience required.
Trail type: Round trail. The trek starts and ends at Sankri.
Region: Garhwal, Uttarakashi  (Uttarakhand) 
Total Trekking : 20 Km
Altitude: 3850 mts/12630 ft
Best Season: Round the year except July and August
Best time to trek
December to January
        The temperature will be around 13-18 degree Celcius during the day.
        After the sun sets, the temperature could go as low as -7 degree Celcius.
        As you go higher, it will get colder. The Kedarkantha base camp will have cold winds as well. So make sure         you have enough warm clothes.
March to May
The temperature during the day will be around 16-20 degrees.
During the night, the temperature could drop to 3-4 degrees, and in the presence of snow, could go to zero degrees.
Considering there is snow all the way till April, summer holidays will also be a fantastic time to go or the Kedarkantha trek.
Trek Itinerary 
Day 1: Dehradun – Sankri Base Camp
Distance: 220 km
Time taken: 10 – 11 hours
Day 2: Sankri to Juda-ka-Talab
Altitude: 6,400 feet to 9,100 feet
Distance: 4 km
Time taken: 5 hours
Day 3: Juda ka Talab to Kedarkantha Base
Altitude: 9,100 feet to 11,250 feet
Distance: 4 km
Day 4: Kedarkantha Base to Kedarkantha peak; descend to Hargaon camp
Altitude: 11,250 feet to 12,500 feet to 8,900 feet
Distance: 6 km
Time taken: 6 – 7 hours
Day 5: Hargaon camp to Sankri
Altitude: 8,900 feet to 6,400 feet
Distance: 6 km
Time taken: 4 hours
Day 6: Drive to Dehradun from Sankri
        Distance: 220 km
        Time taken: 10 – 11 hours
How to Reach
Kedarkantha Trek Image
KEDARKANTHA TREK

KEDARKANTHA TREK

KEDARKANTHA TREK

group on kedarkantha trek

juda ka talab

way to summit point of kedarkantha trek