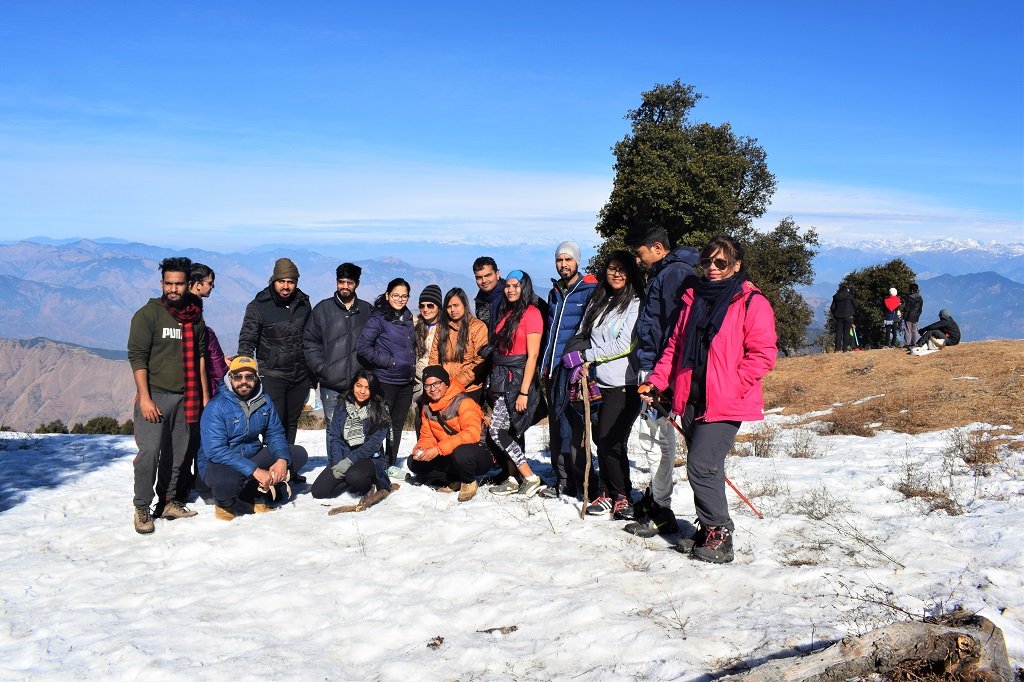 Nag Tibba – Best Weekend Trek
Nag Tibba means Serpents Peak, is the highest peak in lower Himalayas of Garhwal region. It also gives name to the Nag Tibba Range, which is one of the three ranges of Lesser Himalayas, the other ranges are Dhauladhar and Pir Panjal.
Nagtibba is a perfect place for camping during spring and summers and one of the most suitable trek for winters, when most of the treks are closed due to heavy snow. Due to its easy access it is one of most popular weekend treks in India.
Best Time To Visit Nag Tibba
The best time to undertake the Nag Tibba Trek is in the summer months, from April to June, and the winter months, from October to December. For travelers who would love to experience snow fall or snow trekking, which is in Chopta, the best months to travel to Nag Tibba would be January to March.
In Summers: Summer in Nag Tibba is pleasant and salubrious. The Himalayas can be seen from the distance. There is always a cool breeze blowing to further comfort you. It would be wise to carry light woolens with you in case the night become colder.
In Monsoons: The lush greenery of Nag Tibba is irresistible in the monsoons. There is no better experience than sipping on your cup of tea while gazing at the snow-capped peaks of Nag Tibba while raindrops dance all around you. There could be landslides that result in blocked roads for hours, but still the scenic beauty of Nag Tibba is worth all the trouble. Remember to carry raincoats, of course!
In Winters:If you are looking for serenity and peaceful solitude, you cannot go wrong with the Nag Tibba trek in winters. There will be snowfall during winters, but you can still enjoy the vision of Nag Tibba during winters that is incomparable to anything else. This is what heaven on earth will look like. Winters in Nag Tibba have freezing temperatures so remember to carry heavy woolens.
How To Reach Nag Tibba?
Nag Tibba is a 10 km trek from the base camps in Pantwari, located at a distance of 60 km from Mussoorie.
Nearest Railway Station: Dehradun is the nearest railway head. Mussoorie is located at a distance of 33 km from the railway head.
Nearest Airport: Dehradun's Jolly Grant is the nearest airport. Mussoorie is located at a distance of 60 km from the railway head.
Delhi to Mussoorie: Mussoorie is located at a distance of 285 km from Delhi. Buses and cabs ply between the two cities.
 Nag Tibba Trek Map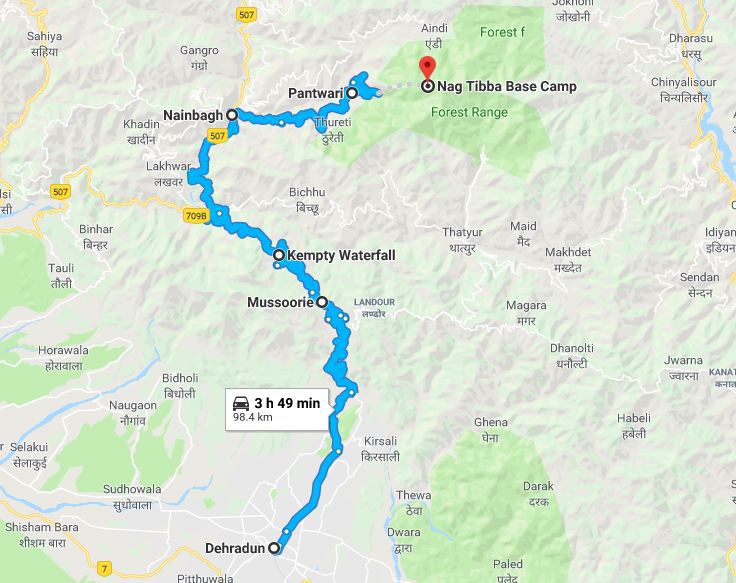 Why Visit Nag Tibba Trek?
Nagtibba is located at an altitude of 3025 mts and attracts thousands of tourists every year. Nagtibba offers majestic scenic beauty and a good trek for adventure lovers. From Nag Tibba one can see the clear view of stunning Bandarpoonch peak, the Gangotri group of peaks, Kedarnath peak in the north, Doon valley and the snow peaks of Chanabang.
Weekend Trek: It is a Ideal weekend trek from Delhi and Dehradun. It is a trekking destination which could be done in 2-3 days starting from Delhi.
Easy and Short Trek: It is one of the easiest trek and best suitable for beginners.
Complete Trek: Offers jungle trail, Himalayan views, Meadows, waterfalls, snow during winter
Safety: One of the safest trek, as being close to Mussoorie and Dehradun, with no rivers for floods or does not have any history of landslides.
Nag Tibba Trekking Routes
There are 3 trekking routes which are used to reach the summit of Nag Tibba. The details of trek route is given below.
Trek Route 1: From Devalsari Village (13 kms)
The trek to Nag Tibba starts from Devalsari (13 kms) where one can stay Foresh Guest House by taking permission from the Mussoorie Forest Office. You can trek further for 3 kms to Nag tibba top which offers a breathtaking view of the Himalayas. The route goes through the thick deodar forest and reaches to the remote place with almost no habitation.
Trek Route 2: From Panthwari Village (8 Kms)
This is the most used route for trekkers to reach Nag Tibba base camp and summit. Pantwari village is 50 Kms by road from Mussoorie and 85 Kms from Dehradun. It is one the shortest route to reach Nag Tibba (just 8 Kms) from Panthwari village. Though the route is is little complicated and requires a guide.
Trek route 3: From Aunter (via Thatyur)
The motorable route via Thatyur goes all the way up near bridle path near Aunter. From here you walk up to the ridge top to Aunter, from here the route is quite straight with few slopes.
Suggested Nag Tibba Trek Itinerary
Day 1: Dehradun to Pantwari village drive and trek to Nag Tibba Base Camp
Day 2: Nag Tibba Base Camp to Nag Tibba top and return to Pantwari Village and drive to Dehradun.
Complete Details of Nag Tibba Trek Itinerary
If you have three day time you can follow fllowing itinerary
Day 1: Dehradun to Pantwari village drive and trek to Nag Tibba Base camp ( 6 Km Trek/ 5 Hour)
Day 2: Nag Tibba Temple to Nag Tibba top and return to Nag tibba base camp. ( 6. Km Trek Up and Down/ 5-6 Hour)
Day 3: Trek down to Pantwari Village and drive to Dehradun.
( 6 Km Trek/ 4 Hour & 80 Km Drive/ 5 Hour)
Complete Details of Nag Tibba Trek Itinerary 
Nag Tibba Trek Image