The Nag Tibba trek just a two day trek. Youneed to carry things depending on the season you go in.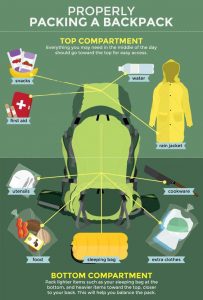 Shoes and Backpack :
Trekking shoes: Trekking shoes with good and firm grip is required, Way from base camp towards summit is a bit rough and sleepery. during pre monssoon and summers.
Backpack (20-30 litres): A backpack with sturdy straps and a supporting frame. Rain cover for backpack is essential.
Clothes
Nag Tibba carry a fewer cloths, Its just a weekend trek.
Two warm layers (Winter): The highest altitude you reach in this trek is 9,914 ft and the climate may require you to have more warm clothes. You will need at least three warm layers (two lights layers such as fleece and woolen and one padded jacket) for this trek. In non winter months, two warm layers should suffice.
One trek pant: One pair of pants should suffice for this trek. Wear one pair and carry an extra pair just in case it rains.
Collared T-shirts: Full sleeved t-shirts so that to prevent from sun burns. Prefer a dry-fit t-shirt, Body will sweat a lot even and one needs to change t-shirts frequently.
Thermals (Optional): At least required for night and during sleep.
Accessories
Sunglasses: Though optional for Nag Tibba Trek, but is required during snow to prevent snow blingness
Synthetic hand gloves: Only required during witer trek. One pair of fleece or woolen hand gloves which is water resistant.
Balaclave or a woolen cap:
Socks: Excessive sweating may drench your socks out so do cayy at lease 2 pairs apart from your normal socks. Also carry full knew length socks which may be required at night.
Headlamp/LED torch:
Trekking pole: This is a must for any trek, this gives support to your back.

Others
Toiletries: Sunscreen, moisturizer, light towel, lip balm, toilet paper, toothbrush, toothpaste, hand sanitiser.
Cutlery:

Spoon and Coffee mug
Lunch box for packed lunch provided during. For hygiene reasons please carry your own cutlery.

Water bottle: 1 liter
Plastic covers:

Some plastic bags for carrying wet cloths

Zip Lock:

Please do carry Zip locks, do not dispose wet tissues and sanitary napkins in the campsite area, instead put the back in ziplock and burry or dispose them in city or in an area from where they can be disposed easily.
Mandatory Personal Medical Kit
Band aid –5 strips
Cotton – 1 small roll
ORS or Glucon D – 5 packets
Moov spray (aches, & sprains)
Knee cap, if you are prone to knee injury
Mandatory Documents
Please carry the below documents. The Disclaimer certificate needs to be downloaded (PDF), filled in, signed and handed over to the trek leader at the base camp.
Photo Identity Proof: Example (driving license, voters Id, Aadhar card etc), Original of any one.
Disclaimer- Download PDF