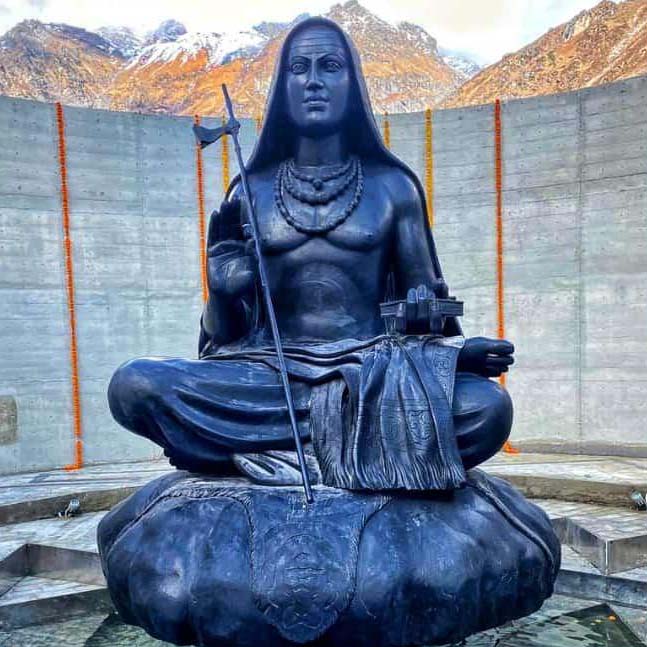 Overview
Location
In Kedarnath Dham Behind Kedarnath temple
Distance From Gaurikund
20 Km Trek
Best time to Visit
May, Jun, Sep, Oct, Nov,
Famous For
Holy Place
Adi Shankaracharya (788 – 820 CE), born in Kaladi, Kerala who was a philosopher and theologian is believed to have died at Kedarnath.
Kedarnath Yatra           Panch Kedar yatra          Char Dham Yatra         Adi Kailiash Yatra  
 The Shankaracharya Samadhi is located at a distance of about 600 meters from the Kedarnath Temple, and it can be reached by foot. Visitors are advised to wear comfortable walking shoes and carry water and snacks, as the walk to the Samadhi can be tiring,  The Samadhi is made of black stone and is surrounded by a small garden. The area around the Samadhi is peaceful and serene, and it offers a quiet place for meditation and introspection.  At the age of 32, he decided to attain moksha (freedom from body) at Kedarnath and merged under the land near Kedarnath temple. Hence this place called as Shankaracharya Samadhi place.
Places to See in Kedarnath
Sonprayag  

Shri Kedarnath 

Gaurikund 

Vishwanath Temple

Rudra Cave Kedarnath

Bhairav Temple


Vasuki Tal


Triyuginarayan Temple

Gandhi sarovar

Tungnath Temple

Madmaheshwar Temple

Rudranath  Temple