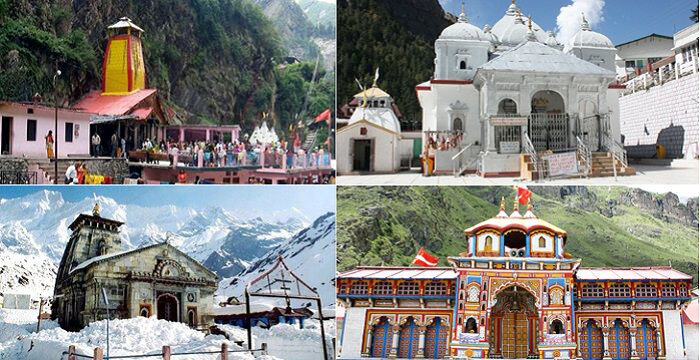 If you are a devout Hindu, the Chardham yatra is of immense importance. These four holy pilgrimage sites are opened for pilgrims only for a brief six months, which commences from the month of April and May. The dates are usually declared by the Char Dham temple committee, Kedar-Badri Mandir Samiti before the holy day of Akshaya Tritiya. A highly auspicious day for the Hindu community Akshaya Tritiya also known as Akha Teej is believed to bring good luck.
It is said that, if Gold is bought on this day, it will never fade away and would continue to grow.
The Yamunotri Temple and Gangotri Temple open on the day of Akshaya Tritiya every year followed by the portal opening of Kedarnath Temple and Badrinath Temple after a couple of days. Yamunotri and Kedarnath Dham close on Yama Dwitiya/Bhai Dooj whereas the Gangotri Dham closes on the day of Diwali. And the door of Badrinath temple closes on the day of Vijay Dashami.
It is recommended that the Chardham Yatra should be processed ina clockwise direction. Hence, the yatra is ideally started from Yamunotritowards Gangotri, thereafter to Kedarnath and ultimately concluding atBadrinath.
CHARDHAM YATRA OPENING & CLOSING DATES FOR 2019
| | | |
| --- | --- | --- |
| Yamunotri Temple | – | 07 May 2019 (Tentative) |
| Gangotri Temple | – | 07 May 2019 (Tentative) |
| Kedarnath Temple | – | 09 May 2019 (Tentative) |
| Badrinath Temple | – | 11 May 2019 (Tentative) |
| | | |
| --- | --- | --- |
| Yamunotri Temple | – | 27 Oct 2019 (Tentative) |
| Gangotri Temple | – | 27 Oct 2019 (Tentative) |
| Kedarnath Temple | – | 27 Oct 2019 (Tentative) |
| Badrinath Temple | – | 09 Nov 2019 (Tentative) |