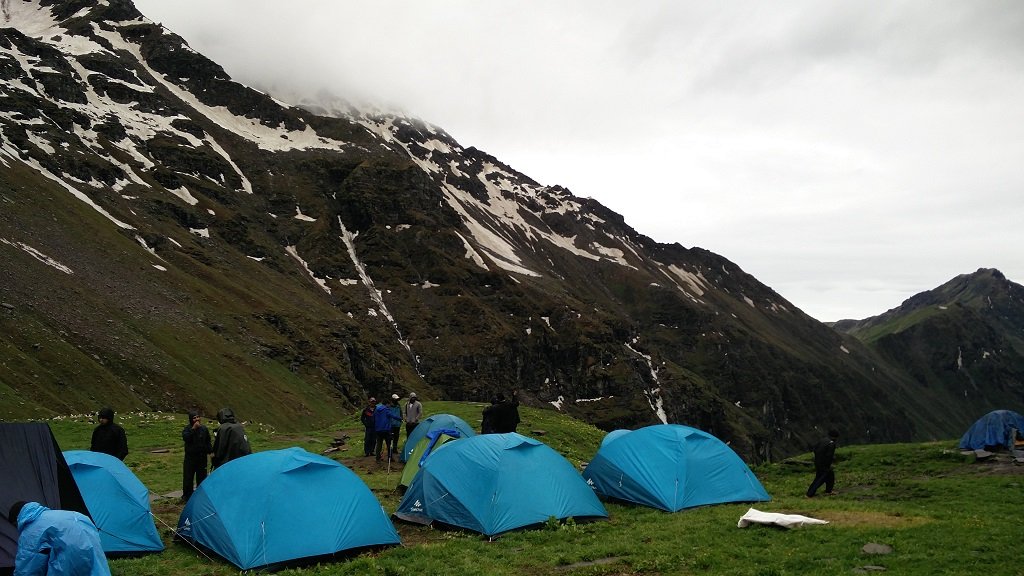 Best things to do on Rupin Pass Trek
Rupin Pass trek is one of the most beautiful treks with provides panoramic views of the Himalayan peaks. The trekking route to this high altitude pass passes through lush green forests of fir, rhododendron and pine, glacial meadows and waterfalls Click here to know more 
Best time to go on Rupin Pass Trek
The best time to do the Rupin pass trek is either the summer season ( May and June) or the post-monsoon period( Sept to October). The summer months are the best times if you want to witness snow on the trail.
The temperatures also remain relatively normal during these times. You can also expect some light showers. This is also the season when rhododendrons bloom all over along this trail. Click here to know more 
How difficult is Rupin Pass Trek ?
The Rupin Pass trek is a medium to difficult level trek. It does have a mix of different terrains including muddy, slippery, snow and rocky. However, there is also an immense amount of adventure and excitement that you will experience while doing this trek. Click here to know more 
How to prepare for Rupin pass trek
This is a trek that will test anyone's patience and endurance. It has a mix of different terrains ranging from medium to difficult levels. It also requires you to have a certain level of physical fitness. If you are a person who is not physically fit and mostly leads a sedentary life, then it is advisable to indulge in some form of physical activity like exercises or sports to make yourself fit for the trek.  Click here to know more 
Things to carry
It is a medium to difficult level trek and tests endurance. Thus it is advisable to carry a good amount of water and dry fruits during the ascent. The valley is at a high altitude and therefore has low levels of oxygen and low temperatures. There are portions with a steep ascent and arduous terrain types.
Make sure you carry sufficient amount of warm and comfortable clothes. Camphor also helps in breathing at such high altitudes. Some basic trekking gear like  click here to know more